In the previous post, we shared what an intranet is and why it is crucial for your company.
Now, let's delve into the essential elements that contribute to a highly utilized and effective intranet. Alongside this, we'll provide four successful intranet examples to illustrate these concepts.
9 Essential Features of Intranet
Company News Center
The main goal of the intranet is to ensure everyone in the company stays informed and up-to-date with the latest information, both internally and within the industry.

An intranet can be the one-stop platform for employees to receive the latest corporate news, industry news, corporate announcements, and leadership communication daily.
Often, in the morning rush, we may briefly glance at company announcements in our email but end up forgetting about them amidst other messages.
However, with the intranet, you won't have to deal with scattered information or multiple channels. It saves valuable time and effort, streamlining access to critical updates and fostering better communication within the organization.
Directory with Effective Navigation to the Most Used Applications
Most companies adopt intranets hoping to improve communication between team members and efficiency in searching the necessary document.
However, the reality is that most companies' intranets have very low usage rates by their employees.
Does this mean that the intranet has low value?
No!
The problem is due to most of the intranet design being company-focused, but not employee-focused.
What I mean is that most of the intranet is packed with company information but lacks personalized elements and clear navigation for the staff.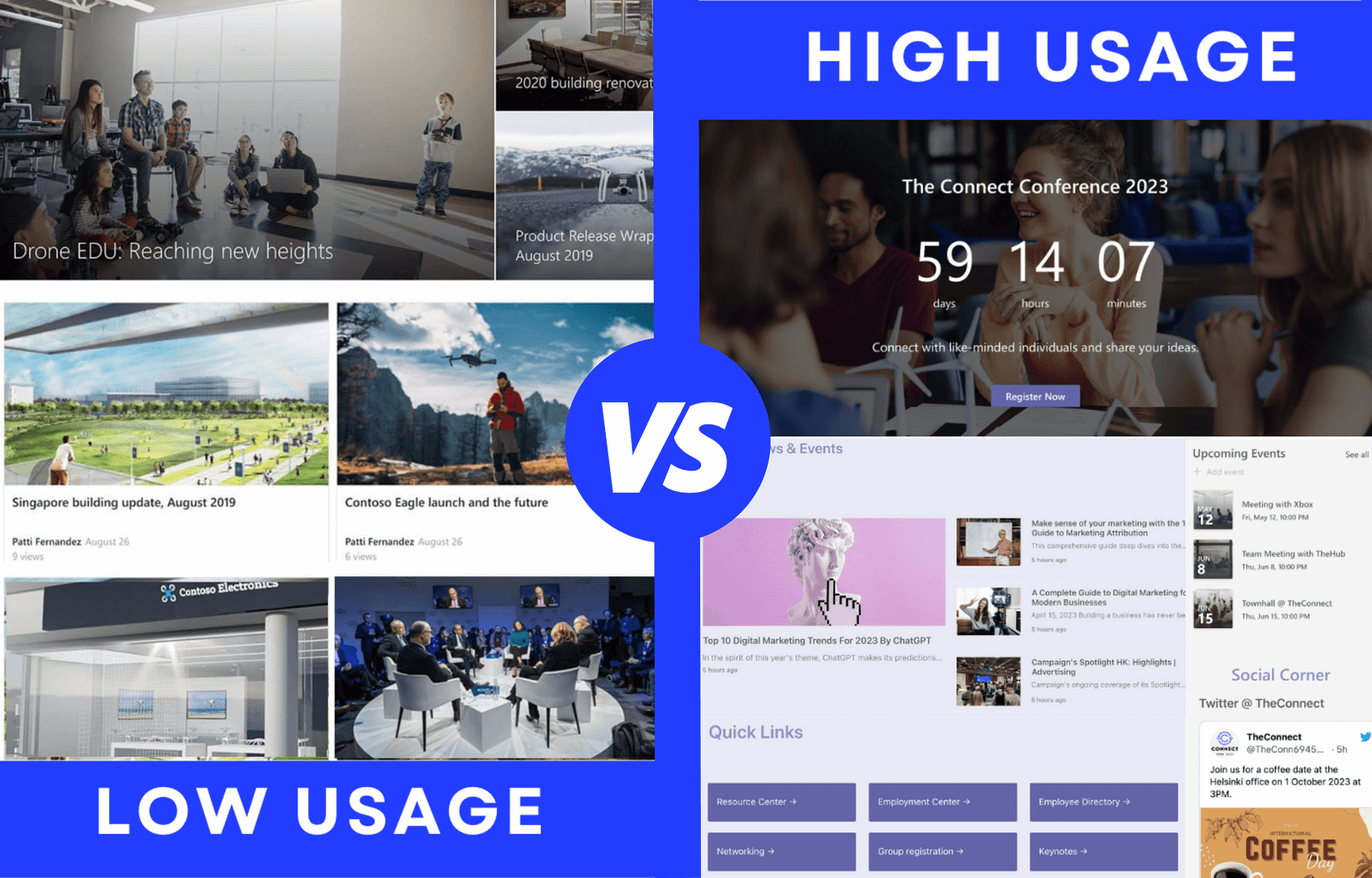 Would you like to see a page loaded with stuff that you are not interested in? Or one that clearly tells you what is important for today and points out to you the resources you need.
I believe we will all choose the latter.
When building an intranet, you want it to be the first thing employees think of when looking for resources, but not dig up the email contact list and back to low-efficiency back-and-forth email communication again.
This means that clear navigation and instruction are of utmost importance when designing the intranet.
Document and Resource Centre
Your intranet is also your document repository where all of the employees can find the latest documents including company policies, forms, templates, guides, and procedures.
Most of us would understand the frustration of not being able to find the document we want and spending a great amount of time either searching by ourselves or consulting our colleagues.
With an intranet being the centralized document management platform, you can find the information you need with ease.
At the same time, with the automated forms capability with the intranet. The submission of forms becomes more convenient and also easier for HR to track the progress.
Event Management
As mentioned above, besides updating the employee on the latest information, the employee can also be informed every morning when accessing the intranet on what are upcoming events.
Within the intranet, you can add the company's event or countdown to the important deadlines for your employees to be reminded of.
Staff can also view their personal calendar through the intranet including any upcoming events and team calendar on any upcoming meetings and holidays.
Employee Directory
The employee directory is also an important data repository.
Detailed documentation on each member including the job scope, contact details, time zone, and availability can ensure efficiency in communication between members.
Answer Common Inquiries
Just as efficient as finding documents, information, and colleagues, the intranet should also help employees solve common problems and provide them with direction with friendly navigation.

The HR team could provide a guide on what are the common inquiries of the staff including benefits, payrolls, and reimbursement.
For companies with multiple teams and departments, each team leader could contribute to what are the common inquiries they received cross-team and provide a clear guide to all colleagues through the intranet.
The initial implementation stage would require some effort, but eventually, as your intranet grows to be a digital knowledge hub, you know all the effort pays.
Embedded with Useful Insights
The definition of useful insights could differ across industries.
You can embed analytics and reports within your intranet including your company's performance dashboards, and the gap between current performance and goals.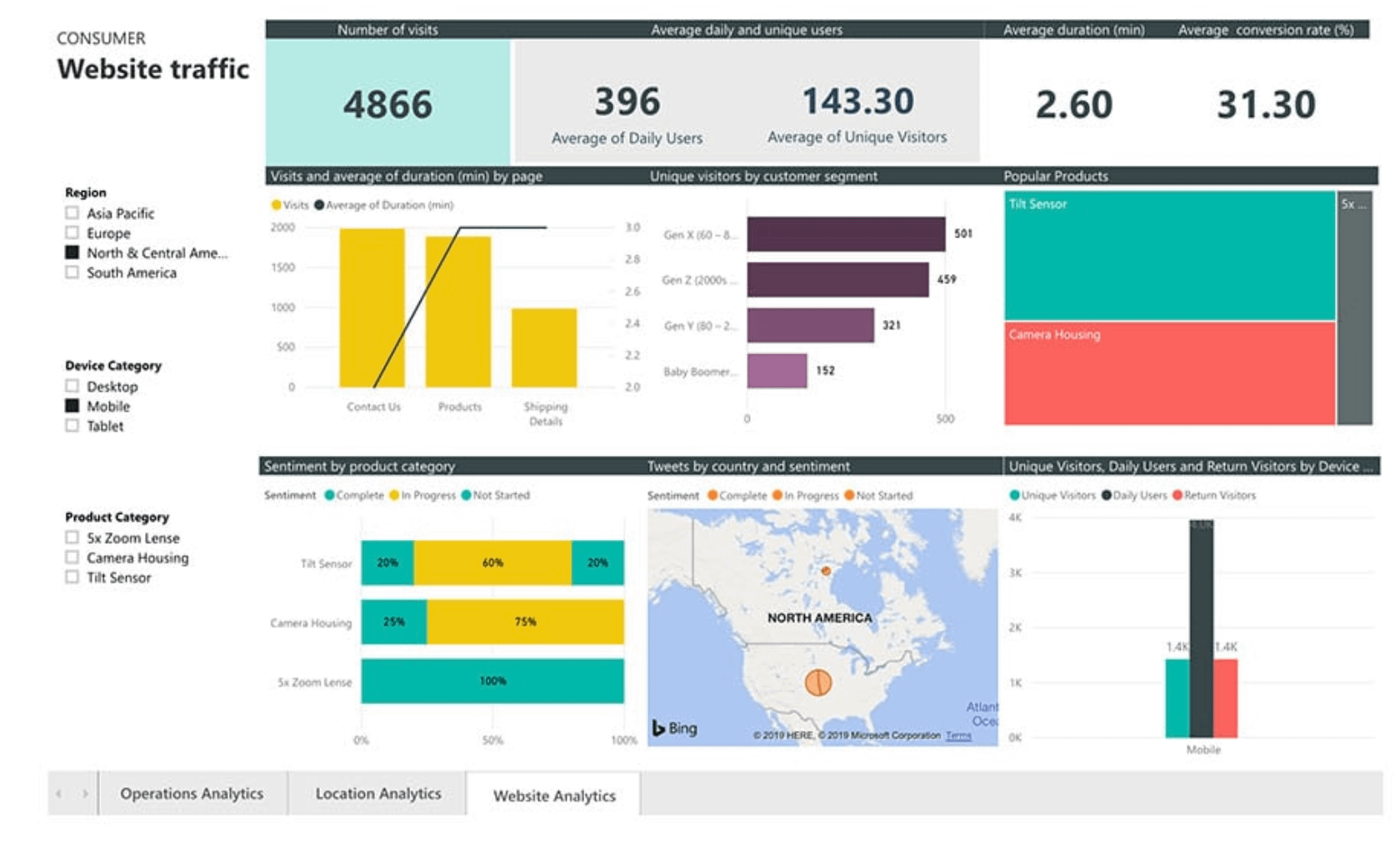 A Social Network for Employees
Besides enhancing communication, an intranet should also help to develop a culture and foster bonds within the company.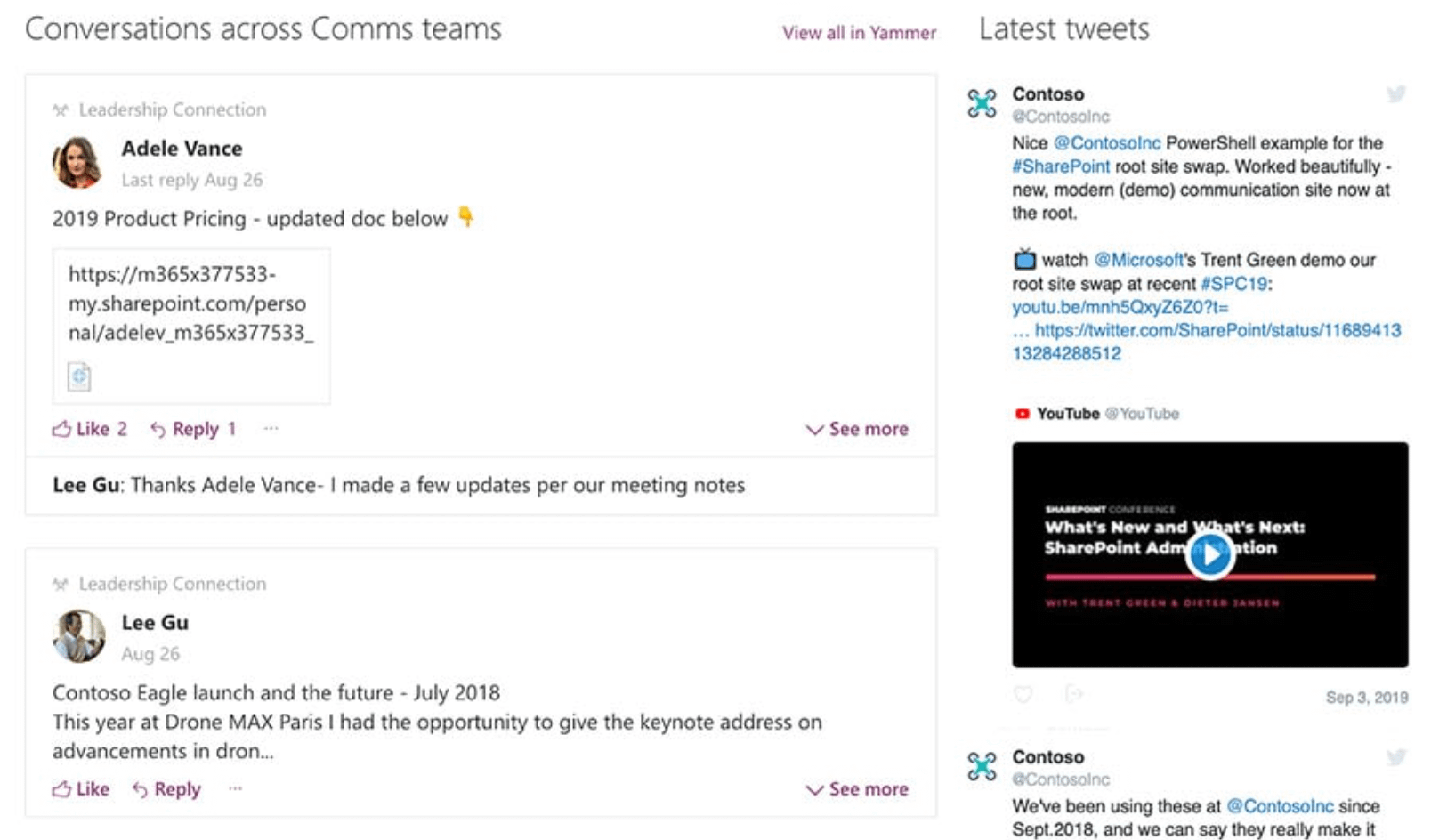 Most of the intranets incorporate a social corner where colleagues can interact with each other through social media platforms or real-time conversation integrated through Microsoft Teams.
A social corner helps members develop a sense of community and belonging and facilitates the exchange of information and insights.
Continual Learning Center
The last essential element for an intranet is a continual learning center.
One of the main purposes of an intranet is information sharing and reducing the barriers for employees to obtain new information and insights.
Today's business environment is fast-changing. For small and medium-sized enterprises, continuous learning is the foundation for continual competitiveness.
Whether it is learning within the company or in the overall industry, every company should have its own continuous learning center to encourage employees to obtain information for themselves in continuous learning and improvement.
Now with all the essential elements covered, let's use 4 successful intranet examples to illustrate why an effective intranet can help facilitate information exchange.
Intranet Examples
1. Intranet Example for IT services or Technology Company

Highlights of this Intranet Example:
Friendly interface with a well-balanced between the company's information or news hub and personalized information.
Easy access and content discovery to frequent resources with effective navigation.
Personalized daily agenda reflected with countdown for important events.
Employee directory with time zones for different members for effective collaboration and communication.
Up-to-date content management.
An interactive social corner that allows team members to celebrate success, foster bonds, and know the latest updates from the company's social media sites.
FAQ segment addressing common questions.
2. Intranet Example for Industrial Sector Company
Highlights of this Intranet Example:
Clean interface focusing on providing an effective work desk for the employee.
Effective navigation to common resources including the latest documents the employee was working on or uploaded by team members.
Helps the employee to keep track of the daily events and upcoming team meetings.
Encourage the exchange of information and knowledge across members by providing a platform for everyone to share and learn.
FAQ included assisting the employee in common inquiries.
3. Search-focused Intranet Example
Highlights of this Intranet Example:
Search-focused intranet aims to provide efficient navigation for employees to look for the resources they need.
Side-bar providing most frequent inquiries and FAQs.
Calendar indicating recent events and assignments need to be completed.
Employee can look for HR team directly regarding through the site on any help or assistance.
4. Social-focused Intranet Example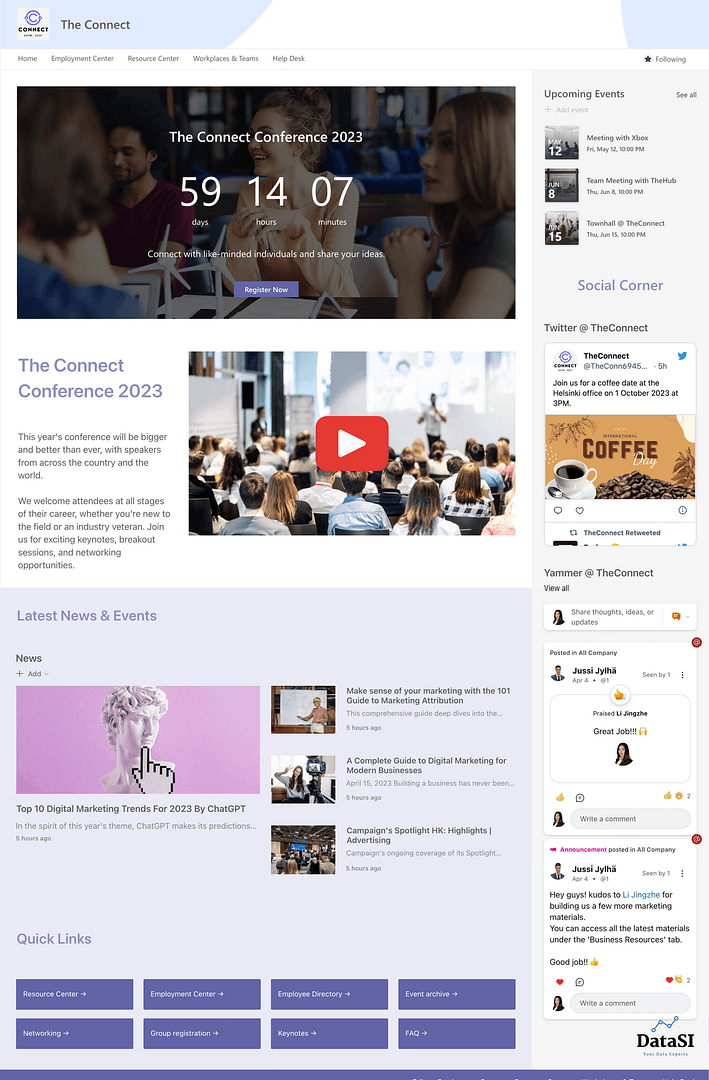 Highlights of this Intranet Example:
Social-focused intranet aims to provide a community-like experience for the users.
Besides the fundamental functions like quick links and directories, it provides detailed information about the company's upcoming events which prompt participation and collaboration.
The overall layout is light-hearted and friendly, encouraging participation and engagement.
In addition to the four examples mentioned earlier, an intranet can offer a wide range of functions tailored to suit various companies' unique needs.
When it comes to building an intranet, we choose Microsoft SharePoint as our preferred platform. Its high flexibility allows seamless integration with other Microsoft 365 apps and third-party platforms, providing a comprehensive and efficient solution. With SharePoint's customization options, scalability, and top-notch security, we ensure your intranet perfectly aligns with your requirements.
Let us help you create a personalized intranet that caters to your specific needs. Reach out to us today, and let's get started on optimizing your internal communication and collaboration!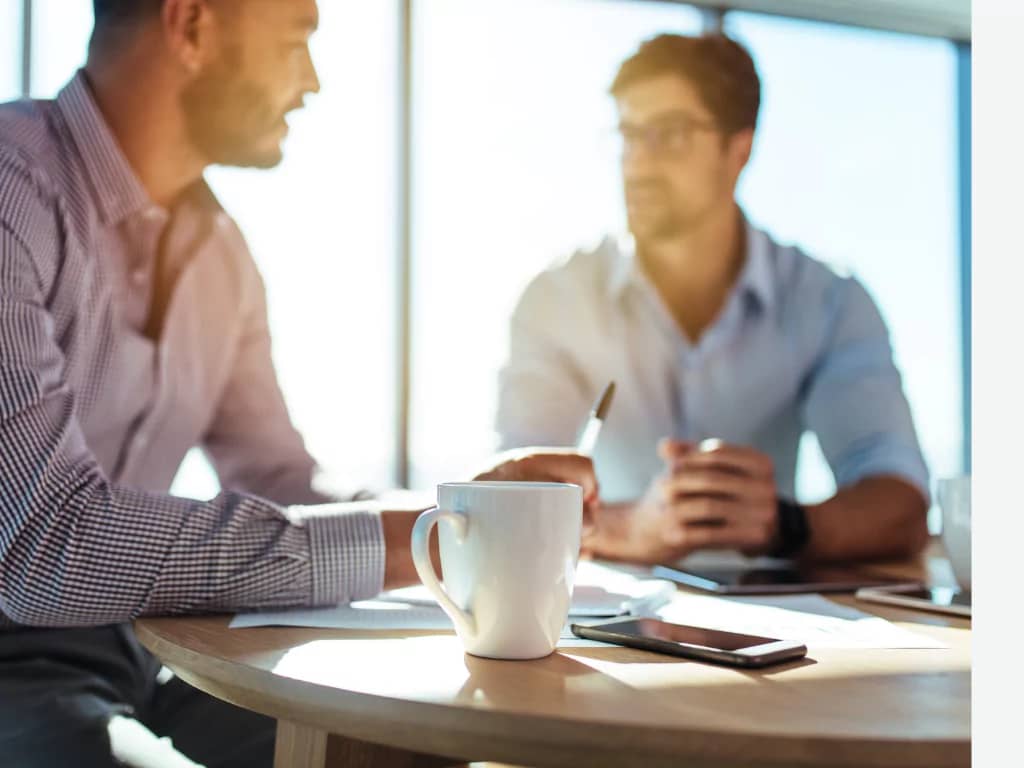 Talk to us today
Find out how we can help your business to build a successful data strategy.