Can small businesses benefit from document management systems?
The answer is a big YES.
In today's fast-paced business landscape, effective document management is essential for businesses of all sizes. Small businesses, in particular, can reap significant advantages from implementing document management software.
Today, we want to provide you with a detailed guide on what is the best small business document management software for your business and what should you take into consideration when choosing a document management system.
What is Document Management Software for Small Business?
Document management software is a digital solution designed to organize, store, and manage your business's documents and data in a centralized and efficient manner.
It replaces traditional paper-based filing systems, reducing the need for physical storage space and streamlining document-related processes.
Small businesses can use document management software to keep track of all the important papers, files, and data. Instead of shuffling through stacks of papers or searching endless folders on your computer, you can use the software to easily find any document you need.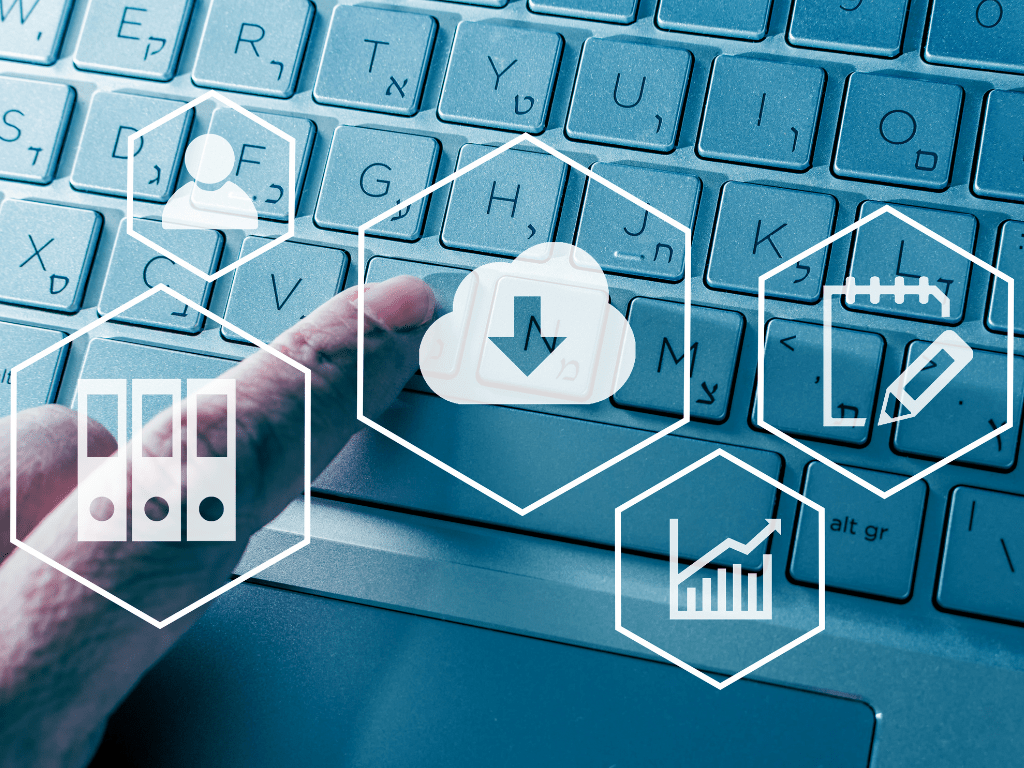 Moreover, you and your team can collaborate on these documents seamlessly. For instance, if you need to draft something, your team members can participate and contribute their own sections in real-time, no matter where they are located.
Document management software also prioritizes the security of all your documents. Its encryption features ensure that sensitive information remains confidential and isn't accessed by unauthorized individuals. Additionally, if regulations require you to retain specific documents for a certain period, this software can serve as a helpful reminder.
For small businesses that want to grow, document management software can help you greatly.
It not only saves you time by facilitating quick document retrieval but also enhances teamwork and ensures the safety of your important data.
So, whether you're running a cozy little shop or a small office, document management software serves as your intelligent assistant, aiding you in maintaining order and elevating your organization.
What are the Benefits of Document Management Software for Small Business?
Besides the benefits mentioned above, small business owners can also gain advantages in the following areas: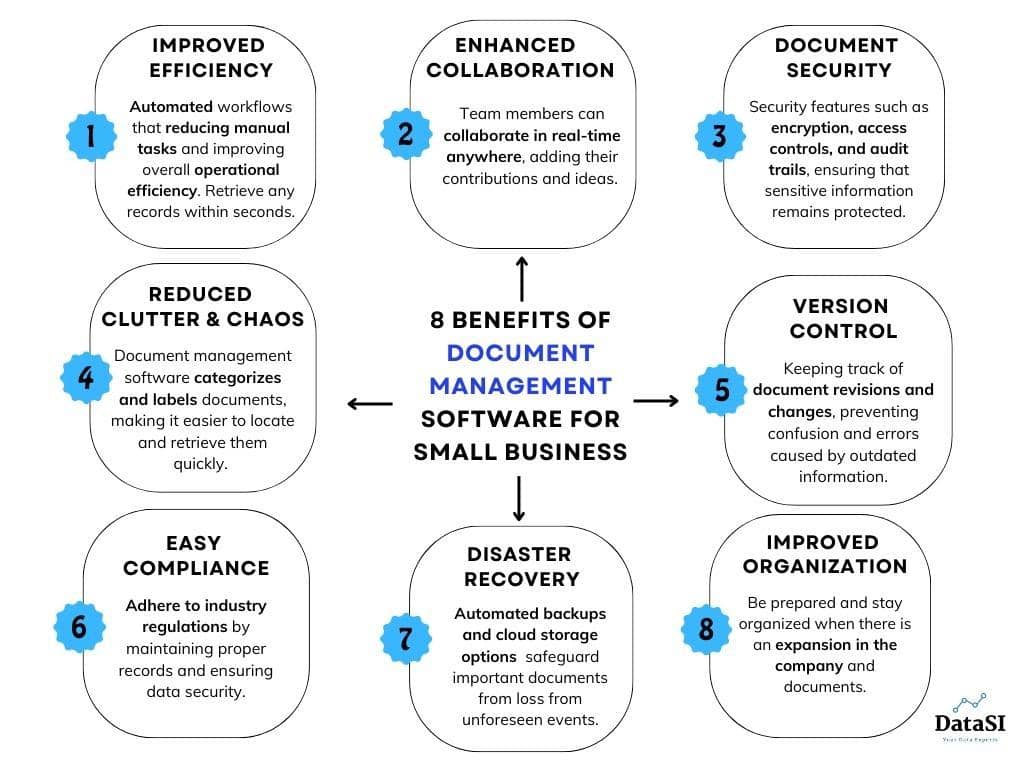 Essential Components of Small Business Document Management Software
Document management software is truly valuable only when it is capable of assisting you. Before integrating a document management solution, it's crucial to consider the specific goals you intend to accomplish.
Typically, good document management software for small business should include the following essential components:
User-Friendly Interface: The software should be intuitive and easy to navigate, requiring minimal training for employees to start using it effectively.
Document Storage and Organization: Robust storage capabilities with options to categorize and tag documents based on type, department, or project are crucial.
Search and Retrieval: A powerful search function that allows users to quickly find documents based on keywords or filters enhances efficiency.
Collaboration Tools: Real-time editing, commenting, and collaboration features enable teams to work together seamlessly, even when remote.
Security Measures: Encryption, access controls, and user permissions ensure that sensitive documents are only accessible to authorized individuals.
Workflow Automation: The ability to create automated workflows for document approval, review, and routing streamlines processes.
What are the Best Small Business Document Management Software in 2023?
Here are some of our recommended document management software options for small businesses in 2023:
Our Top Choice in Document Management Software for Small Business: Microsoft SharePoint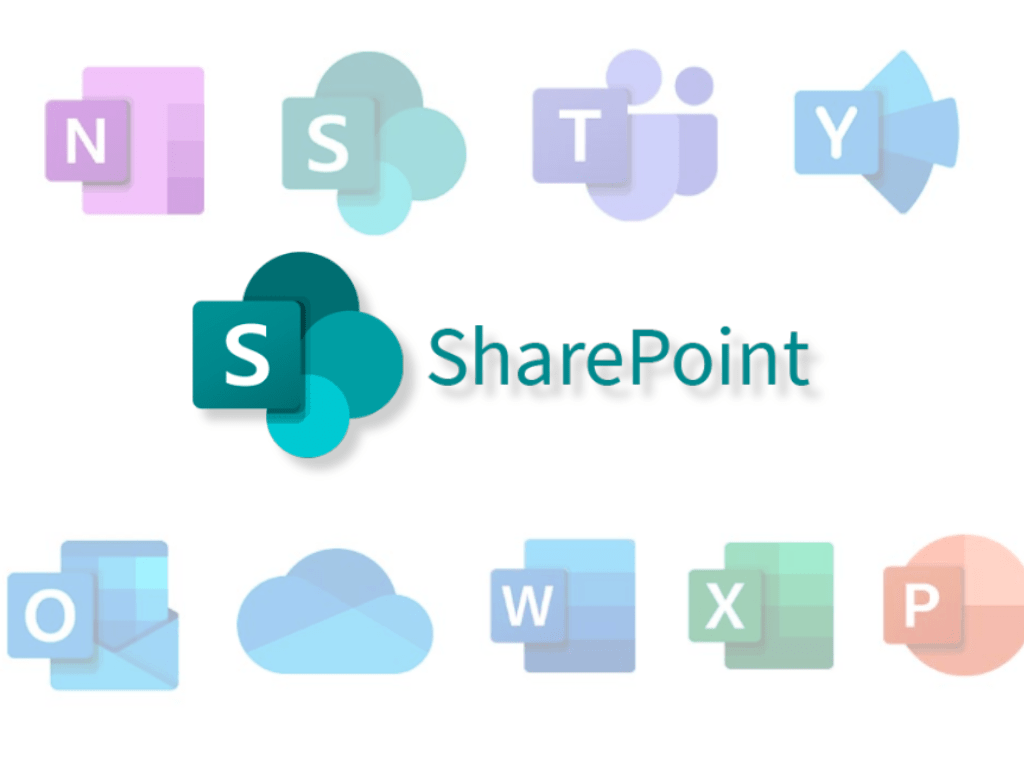 Among the diverse options available, we choose Microsoft SharePoint as the top document management software for small businesses. We understand the unique needs of small businesses, and SharePoint's capabilities align perfectly with those requirements.
Here's why SharePoint stands out:
1. Seamless Integration: SharePoint seamlessly integrates with Microsoft Office products that many small businesses are already using, enhancing familiarity and ease of adoption.
2. Customizable Workflows: Small businesses often have specific processes that require automation. SharePoint allows customization of workflows, ensuring that the software adapts to your unique business needs.
3. Collaboration at its Best: SharePoint's collaboration features are tailored for effective teamwork. Real-time document editing, version history, and commenting streamline collaboration, whether your team is in the same office or spread across the globe.
4. Scalability: As your small business grows, SharePoint can grow with you. It offers scalability that accommodates increasing document volumes and evolving business processes.
5. Security and Compliance: SharePoint provides robust security features, including encryption, access controls, and compliance tools, safeguarding your sensitive business information.
6. Cloud or On-Premises: SharePoint offers the flexibility of cloud-based or on-premises deployment, allowing you to choose the setup that suits your business preferences and requirements.
7. Affordable Pricing: Considering its robust capabilities and the pricing plan starting at just USD $5.00 per user per month, SharePoint stands out as an economical document management software solution for small businesses. Its powerful features make it exceptionally cost-effective.
How can DataSI Help Your Business to Achieve Success?
At DataSI, we help small businesses like yours to build a comprehensive and customizable document management solution with Microsoft SharePoint. Read success stories here.
Our approach involves a thorough understanding of your unique goals and objectives. We then create a customized timeline that seamlessly aligns with your business's specific requirements and helps to achieve your desired goals.
Have a one-on-one conversation with our experts today to enhance your efficiency and reinforce your information security.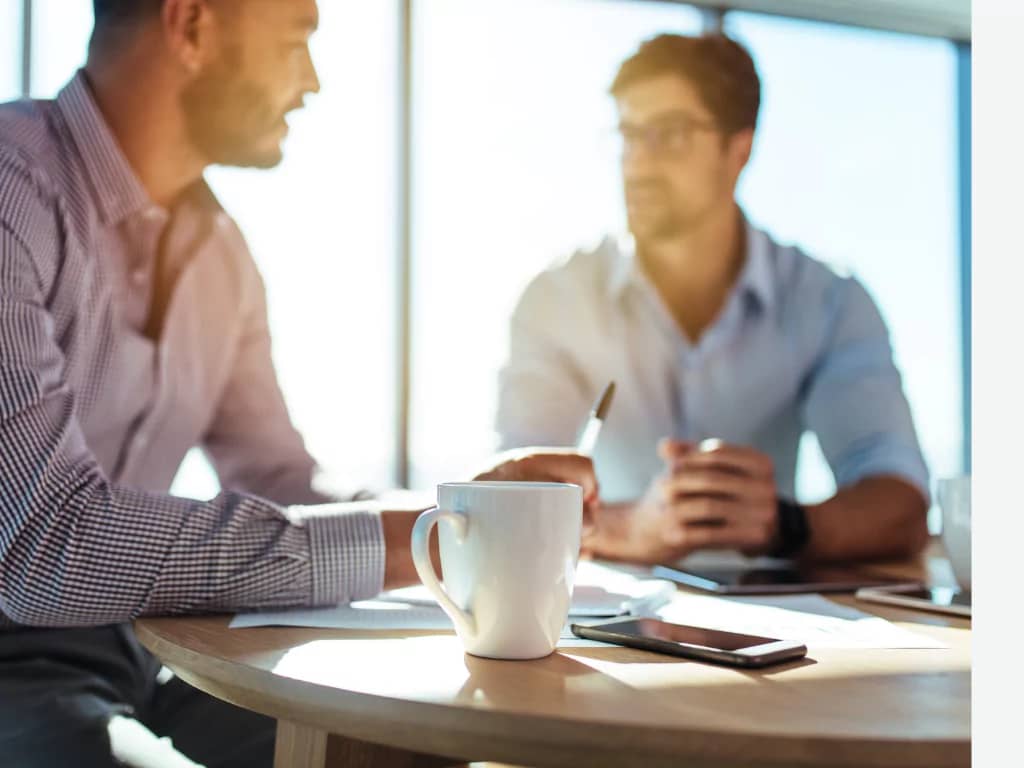 Talk to us today
Find out how we can help your business to build a successful data strategy.